so this is a big day for cheers, bethani! it is our very first individual sponsor post. i couldnt be more excited about the opportunity to have sponsors & really get to know the people who reside on my sidebar each month.
our first feature is a lady i have really enjoyed getting to know. its actually quite funny how i met her. i had gotten a gift card to her shop for christmas from
another sponsor
of mine & had the chance of creating my own pieces. and then one thing let to another, she won a large ad space, and ta-da, here we are. so without much further ado, here's kristine!
kristine resides in utah, with husband and adorable children. she had originally decided to start this shop with her sister in law, but just recently taken over as operator of both the
shoppe
and her
blog
. her shop is full of all things frilly and beautiful. from hair accessories to earrings, even a little jewelry as well, you can definitely find something for every taste.
i recently "sat down" with kristine to get her thoughts on why she started the shop, what she would be doing if she didn't own jandmseyecandy and a whole lot more.
1.) What made you decide to open a shop? Sell the items your selling?
Kristine: I've always loved fashion, even tho I don't consider myself as very "fashionable" When I was preggers with my 1st baby girl I started experimenting with anything and everything girly I could make for her. With encouragement from family and friends, I started an Etsy Shoppe with my SIL.
2.) How did you come up with the name of your shop?
Kristine:
Since I opened up the shoppe with my SIL we knew we wanted to incorporate our girls into everything we did. They truly are our inspiration. J&M = Jayden&Maggie for my niece and my daughter.
3.) If you weren't operating your shop, what would your dream job be?
Kristine:
To open up an actual in store boutique, selling my handmade goodness :)
4.) Any advice to people thinking about opening a business?
Kristine:
YOU CAN DO IT! My best advice would be to network! Put yourself out there and meet people who love doing the same things you do, and heck even step out of your comfort zone, it's good for you! The inspiration and lessons you'll learn from each other is simply amazing! I've only been doing this since May 2010, and some of my friends thru "bloggy" world are some of my best supporters in my every day life. I feel blessed to have met so many wonderful, amazing, inspiring women!
And not only did Kristine answer these questions and give some terrific advice she is offering one lucky lucky reader a wonderful gift:
your very own lace bloom headband!
winner gets their choice of bloom color & headband size.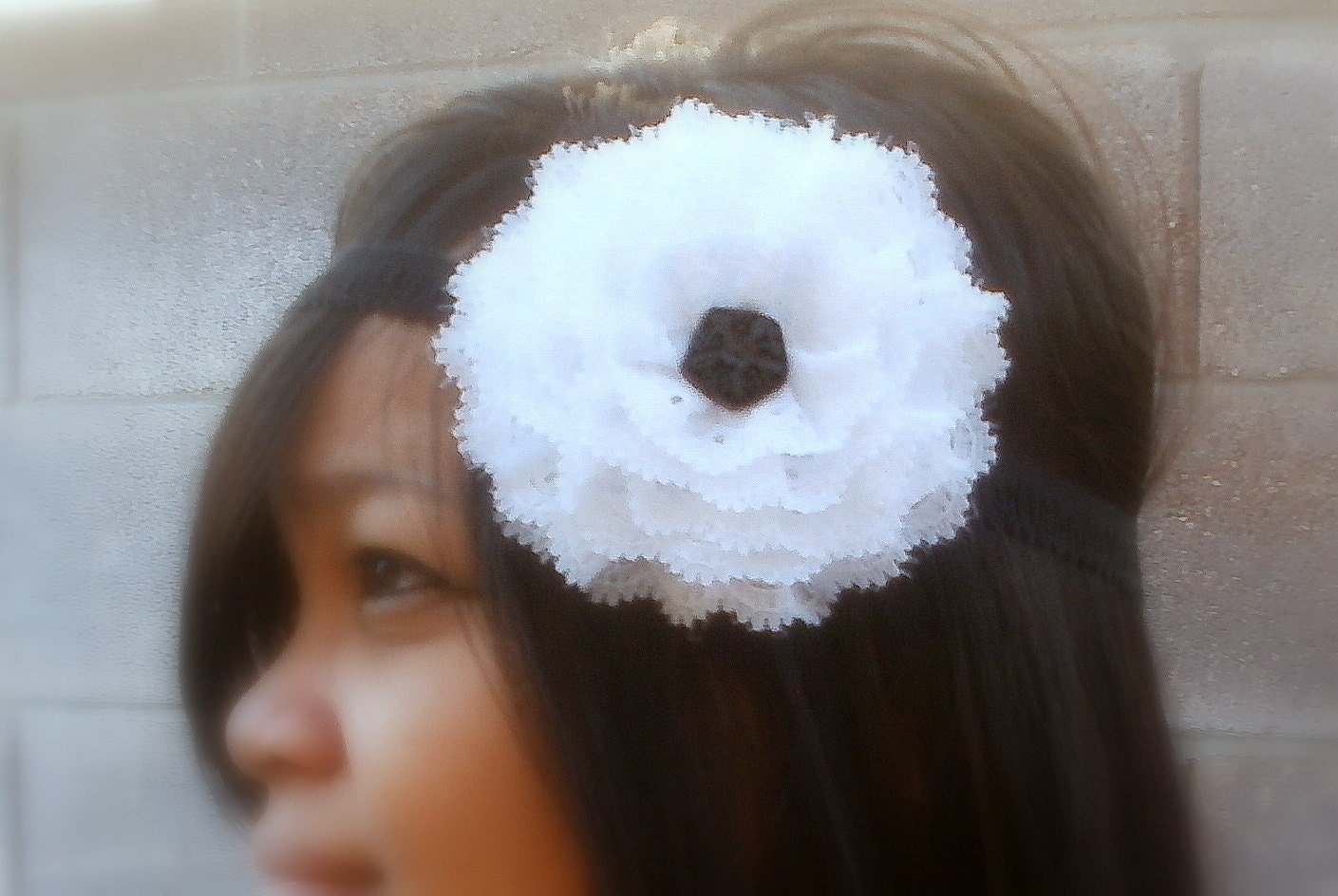 let me tell you, i got two of these of my very own
a black bloom with pearl center
&
a white bloom with black center (like above)
they are GORGEOUS & teriffically made!
i can't wait to rock these with an outfit soon
- definitely will be sharing photos of that!
entering is simple:
(leave a comment with each task you complete)
be a follower of my blog via GFC and her
facebook page
(mandatory)
for extra entries: (one entry for each)
follow kristines
blog
via GFC
tweet this giveaway - must include @cheersbethani @jandmseyecandy & #giveaway in the tweet
thats seven chances to win right there!!
deadline to enter is Tuesday, January 17, 2012 -
winner will be announced Wednesday morning, 1/18/2012
Thanks again to Kristine for being an awesome sponsor! Be sure to go visit her
shoppe
and
blog
and tell her Bethani sent you!