this week's portrait of splendor feature is Kassi from
TrulyLovely
! i've known her for awhile now & love her to death. I'm so thrilled I'm getting to share her with everyone today. She's introducing us to her Scentsy business (even info if you're interested in selling) & EVEN has thrown in a pretty awesome giveaway down at the bottom. So be sure to take part in that as well.
Without much further ado, here's Kassi!
Hello lovelies!!!
My name is Kassi and I sell Scentsy! See... :)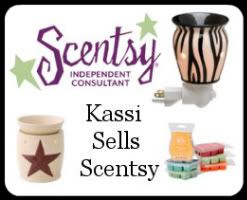 I have been an Independent Scentsy Consultant since May 2008.
It is something I truly enjoy and LOVE sharing with others!
That's me! :)
I started selling Scentsy while in college to make some extra money.
Since then, it has truly been a huge blessing for me and for my family!!!
I have a team of 11 AWESOME ladies that sell Scentsy in my downline...
And I get to PARTY for a living. :)
Simply put, Scentsy is a wickless candle system, a safe alternative to your traditional wicked, flame candles. Each Scentsy warmer is powered by electricity, using a light bulb to warm the amazingly scented Scentsy wax, filling your home with the delicious smells of vanilla, cinnamon, lavender... Your choice!
There are three sizes of Scentsy Warmers to choose from.
Full-Size, Mid-Size and Plug Ins.
We also offer Scent Circles, Room Sprays, Travel Tins, the choices and combinations for your Holiday gift giving are endless!
So... how about some FREE Scentsy!!!
The winner of this giveaway will receive THREE Scentsy Scent Circles
from my Scentsy inventory!
Scent Circles are a lovely smelling Scentsy logo with an elastic cord, to hang in your car, closet, lockers...
Pretty much anywhere you'd like to smell nice!
Please leave a comment including any related links for each entry you complete below.
And share your email address if it's not already connected to your account.
Sorry peeps, only open to U.S. residents.
1. Follow Cheers, Bethani via GFC
3. Check out Kassi's website and leave a comment here with what
three scents you might like
4. Share this giveaway on Facebook, twitter, or on your blog. One entry for each.
Please provide a link.
Winner will be chosen via random.org and announced on 12/27/2011.
We ship anywhere in the U.S!
Hope you'll pop over and say hi there as well! :)
See told you she's awesome! Don't forget to stop by her blog sometime and say hey, as well as check out her scentsy store for some great deals and all the latest items that Scentsy has to offer.
if you are interested in being featured as a portrait of splendor,